Creamy Chilli Chicken – Without The Cream
I know that before I found our solutions programme, I lived on creamy sauces with my food. I am a "wet" eater and just LOVE ❤️ creamy sauces. It was one of the few things that I missed. Some people use Philadelphia cream in sauces but I wanted something natural. When I found out that cashew milk thickens in heat, it started me thinking of all the new recipes I could create. My mushroom soup was one, Chicken and Broccoli was another (need to get that recipe written up too) and now this amazing Creamy Chilli Chicken.
There are a couple of stages to this the first time that you make it but it is definitely worth doing the little steps and the first 2 steps are only for the first time that you make it.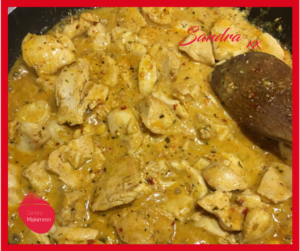 The first thing you need to do is:-
Make your Homemade Cashew Nut Milk – click here for the recipe This can be kept in the fridge for a couple of days and used in lots of things. I use it in my morning smoothies/post work out shakes, and it is gorgeous.
Next:-
Make your Homemade Chilli Sauce – click here for the recipe Once you have made this you will never get a store bought one again. This is spicy!! It will keep in your fridge for about a month – if you haven't it eaten before then. My family also love to use this as a jam, when they are having crackers and cheese. Yummy.
Now onto the main Dish:-
Ingredients
500gms chicken fillets
1 Tbsp smoked paprika
1 Tbsp chilli flakes
1/2 Tbsp oregano
2 – 3 Tbsp Homemade Chilli Sauce or tabasco sauce/Stevia (depending on how hot you want it 😉 )
1 tbsp of Coconut Oil for Cooking
1 1/2 Cups of Homemade Cashew Nut Milk
Method
Chop chicken into chunks
Heat the coconut oil and then add the chopped chicken
Fry for 3 minutes, stirring occasionally
Add smoked paprika, chilli flakes and oregano
Fry for 7-10 minutes until cooked.
Add in chilli sauce and simmer for 2 minutes.
Add in the homemade Cashew Nut Milk and stir it in
Simmer for 2 minutes to thicken. If you need more sauce add a little bit more in.
Take off the heat, serve and enjoy!
When you are doing our Solutions programme you can eat this with lots of vegetables and quinoa. It is gorgeous. When you are in maintenance (i.e. reached your ideal weight/health goal) you can have this as a pasta bake. Use wholemeal pasta to keep your blood sugars stable. Serve with a tossed salad.

Yours in Health and Happiness

Do you know someone who would like to try this? Make sure you share it with them so that they too can enjoy healthy food that isn't bland. Life is too short for bland food!!