Customer Loyalty – What is it worth?
It is amazing when a simple situation starts you thinking about something totally different. Does this ever happen to you?
Over the Christmas Holidays I got my annual renewal email from my car insurance company. When I opened it I was ever so slightly surprised. It had jumped quite a bit! I wasn't happy about that so I decided to make a couple of phone calls to see if there were any better offers out there. Well low and behold I got a better quote – £110 cheaper than my renewal offer!!
Well, then it was get on the phone immediately to my current provider to say that I was leaving as I had got a better quote from another company. What was there reply???
"Let's see what we can do for you!! We don't want to lose you as you have been with us for 3 years!!"
I felt like such a fool!!! For in the previous years I had just let the renewal happen as I was too busy to ring around so it cost me more than it should have. But to now say immediately that they could save me some money, well it just felt like an insult!
"What has this got to do with building your own business?"
Well. I would say a lot. You see rather than companies trying to screw over loyal customers, I really feel that they should be looking after them and rewarding them for their loyalty.
Some companies are great at this – think Tesco Rewards Card – and others – like insurance companies are RUBBISH!
Think of the last time that you were purchasing from a business and how good the experience was. Did you enjoy it? Did you like your products? Did you recommend them to anyone else?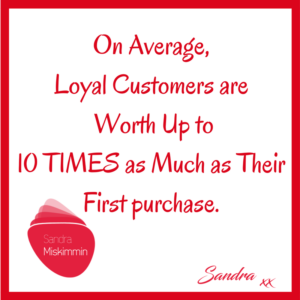 When it comes to building your own business and brand, I highly recommend putting "Your Customer" FIRST. Without your customers, and returning customers you will be continually fighting a losing battle. Your reputation will not grow in the way that you want it to grow and you will be throwing money away on advertising campaigns.
When I started with my new company, so many people contacted me directly as they knew of my reputation in my previous business. They didn't know anything about the company or the products but because they trusted ME and my reputation they came with me to my new company. ( No pressure on me 😉 as the company hadn't even launched in the UK yet!)
My Tips For Helping To Create Your Reputation and Getting Customer Loyalty:-
Your Customer ALWAYS comes first.
Ask yourself – Would I buy from Me? Would I recommend Me? Would I come back to Me? Make sure that you are doing everything within your power to be a YES to each of those questions.
Remember that there is so much choice out there for every customer/client. You need to go above and beyond to retain your customers loyalty – it is not just about price – in fact I very rarely discount prices but what I do is I give a really good back up service and support.
Keep in mind that the cost of gaining a new customer is at least 7 times the cost of keeping a regular one. I learnt that at university and it has always stuck in my head.
Your customer is not dependant on you. You are dependant on your customer.
Your customers have chosen to spend their hard earned money with you. Make sure that it is a great experience and treat them with the respect that they deserve. Remember that they can always find what you have to offer from someone else, and this will result in you losing them.
Remember that social media is always there for customers to complain about you on. Bad news travels quicker than good news. (I posted today about my experience with the car insurance!! Didn't name the company though). Make sure that you are known on social media for the right reasons and service. Ask some of your clients to give you good feedback on your social media. It will do wonders for your brand.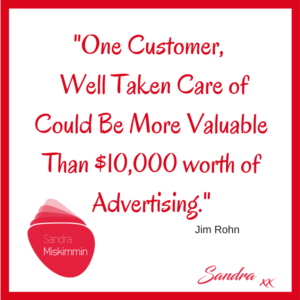 Finally, I love the fact that the company that I am partnered with rewards both the business partners and customers for their loyalty!! We have a loyalty programme that can give loyal customers who are using our products the opportunity to get 2 products at 45% discount!! The company recognises loyalty and rewards it accordingly. I LOVE IT.
Oh and as for my car insurance…well the old company was told to go jump and I am now with a new (local) company with a better policy. Oh and next year I will be ringing around again so that I don't get stung again.
I hope this helps and you look after your customers well. After all, you worked hard to get them in the first place.
Yours in Health and Happiness

If you think that people would benefit from reading this please do share using the buttons on the page. Cheers x