Who loves Chocolate Cookies? 
I know I do!! I used to be addicted to chocolate cookies (any real form of chocolate 😝)and would turn into the cookie monster when I couldn't get access to them.  At times of stress I would have been known to eat a full packet of cookies. That was before I realised what damage I was doing to my body!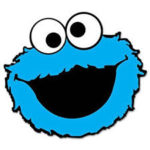 Back in 2014, I embarked on a healthy eating programme and I changed my life forever! I am truly grateful for this as I don't know where I would be had I not changed my eating habits.  One of the things I really love is a "cup of tea and a wee biscuit" – possibly because I live in Ireland. This presented a problem to me. How could I still have my cuppa and chocolate biscuit but not do damage to my healthy lifestyle and long term health.
Well, if you have been following my page you will know that if I find a problem, I will always look for a solution (hence my business name). After a lot of research, experimenting and playing about in the kitchen I have come up with a recipe that finally stratifies not only my taste buds but also the long list of requirements that I need from my food.
Why was it so difficult to create this?
I have very specific requirements
No added sugar – a lot of recipes out there will claim to be sugar free but add other forms of sugar that are just as bad a sugar. Some of my experiments, I loved but they didn't hit the spot with my family. I want to create food that all of my family will eat.
High in protein – in our family, we all do a lot of sport and I wanted to create a biscuit that would help to refuel the body after exercise and taste good. Unfortunately, the food industry have grasped hold of the need to refuel after sport and the need to be convenient. However, many of them are packed full of sugars and artificial sweeteners, fillers and other things that you really shouldn't be eating on a regular basis.
No refined flours – refined flours send your blood sugars rocketing which in turn will switch your body into fat storage mode. I wanted something that wouldn't have a negative effect on my blood sugars.
It had to be tasty!! – this is so important. You MUST enjoy the food that you eat. Yes, it is designed to fuel your body but when you enjoy it, it makes such a difference. I love food, I love creating it and I most certainly love eating it!
They had to be quick and easy to make – I understand how busy everyone is and all too often we don't bake/cook ourselves because we don't have time or we deem things too difficult to do. This is one of the easiest recipes I have ever created and it is done within 10 minutes max!!
The Recipe 
My final recipe has been a success and I shared it within our support group and so many of them wanted the recipe so here it is. I will take more photos of the process but it is really easy to do I reckon anyone could do it.
I should give you a warning!!! When you read the ingredients, you probably will be reluctant to bake them, I was too, but when I say these are amazing, you got to trust me and try them for yourself!!
Chocolate Peanut Cookies Ingredients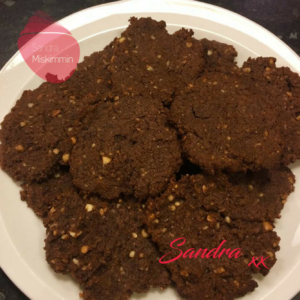 150g Crunchy Peanut Butter (I use the Whole Earth one as it has the least amount of additives)
130g Chickpeas (a small tin, drain them. Going forward save the chickpea juice as that can be used for something else that I have been working on!!)
60mls Homemade Cashew Nut Milk – here's the recipe.
1 scoop of High Quality Chocolate Protein Powder – it is really important that you use a high quality one that is as "clean" as possible. Make sure that there are no sweeteners in it (aspartame, sucrolose, maltodextrin are the most common. If you would like me to have a look at the one that you are using to see if it is ok, send me a wee message). The one I use is really good and high in BCAAs which are fabulous for your muscles. If you would like to find out what it is send me a message
Method 
Turn oven on to 200C
Rinse the chickpeas and dry them off slightly with a piece of kitchen paper.
Weigh out the remaining ingredients and pop everything into a food processor and blitz. If the mixture sticks to the side of the food processor, open it and push down into the centre again and blitz again.
Blitz until the mixture is a smooth consistency.
Using 2 metal spoons scoop the mixture out and spread onto a baking tray. Flatten them out into a cookie shape. Makes 15 cookies
Cook for 15 minutes or until crunchy. Remove from oven and let them cool on the tray.
Store in an airtight container
Enjoy!!
Nutritional Information
– based on the ingredients that I use specifically. If you can anything from the recipe, these will change.
81 calories per cookie
2.5 g carbohydrates
of which are sugars 0.7g
3.5 g protein
6 g fat
1.2 g fibre
Enjoy with a cuppa!!  If you love it, share the love and pin it!