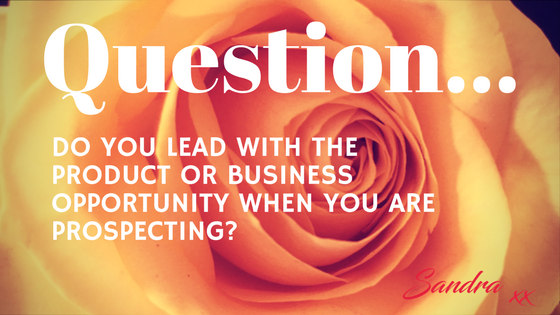 In this industry there is the time old question – "Should you lead with the product that you have on offer or your business opportunity?" What is the answer?
I have often thought about this question, and time and time again I come back to the same answer. Primarily, I will lead with the product!
Why, I hear you ask!
For years I have been approached by people wanting me to join "the next bit thing!"  I have been invited to attend events that "would just change my life forever!" When I was at these events, all anyone ever spoke about was how much money could be made and the big fancy things that they owned. They never spoke about the product and they never ever asked what I was interested in. It all just seemed to false to me and all about them. There was too much of a hard sell and it seemed too good to be true.
Did I ever join them? NO! I said no to each and every one of them.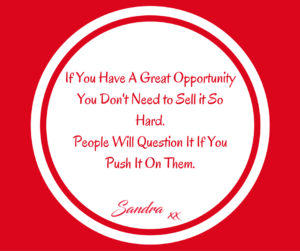 Why?
Well, to me there is no business without people falling in love with a product. If you have a product that you love and are passionate about, it is really easy to lead with that. If your customers fall in love with the product that they have purchased, they are more likely to be a more enthusiastic sales representative/consultant/business builder.  When you show people how easy it isto make money from something that they love, they are more likely to be open to the suggestion of building a business.
In 2014, when I was working on opening the country with my current business, I worked primarily with customers and converted them to business partners. We had no business tools, we had everything stacked against us, but with the belief in the results that our products gave people, we opened the country. People saw our results and excitement and they wanted a part of it and to BE part of it.
The Importance of Product
When you have people in your business that are passionate about the product that they are promoting, they will remain loyal to the product and therefore the company. These people will also be less likely to be "dazzled" by the shiny lights of another company.
When you work in this industry and have a product that is consumable, it also means that your customers and representatives will need to make repeat purchases (this is key when deciding on a business to open, will do a blog on that some time too).  You want people to be using products and being a walking advertisement for the products and company. The last thing that you want is a group of people buying products that they don't know, love or use, buying them "just so they can be paid" and stock piling them in their garage. What will happen then is that they get disgruntled and leave the business and tell everyone about their negative experience.
However…
If I was speaking to someone who is an experienced industry leader, I would lead with the business opportunity!! Why? Well, if they have experience in the industry, they will want to know the ins and outs of the opportunity. If the opportunity, i.e. the comp plan, suits their requirements then they will look at the product and see if their customers will fall in love with it. Then they know that they can build a business and will come on board.
The effect of Social Media and Prospecting
This has had a huge impact on how people approach their prospects. So many people start a business and immediately post on their Facebook page. They are told to paint this picture of mega success and the dream lifestyle that everyone wants. This has lead our industry to be viewed in a negative light. People do not believe in these posts and most likely these people will end up with suffering from NFL – No Friends Left – on social media. Most of the social media posts are opportunity lead, and in my opinion, damage the industry. They make it look fake, inflated and scam like. If someone joins a business and starts posting immediately about these things, people just tend to laugh. Representatives need to learn to be professional network marketer, not a "spammer."
How do you make the decision on what to lead with?
So, I guess it actually depends on the person that you are speaking to.  You need to make sure that you listen very carefully to the person you are talking to. Listening is the key to building a successful business.  Also, think about who you are trying to attract to your business. Decide on your marketing strategy and then work from there. Regardless of what approach you make, you need to make sure that you listen to your prospects needs and then fulfil them. Only when a need is fulfilled with a purchase be made – whether it is a business pack or a product.
Also remember that people are not buying from a company – they are buying from you. Operate your business at an impeccable level and your clients will be drawn to you. They will either want to buy what you are promoting OR they will want to become your business partner.
What ever you lead with, provide someone with the solution to their needs and amazing things will happen. And remember, always be professional in anything that you do.
Yours in Health and Happiness