Who loves a bit of Homemade Mushroom Soup?
When I was on my university placement I spent time in a hotel kitchen – my degree was in hotel management – I learned how to make the most amazing mushroom soup. However, it wasn't the healthiest 😉
I wanted to create a recipe that would be Solutions Approved and still taste amazing.  Last week the experiments in the kitchen started and the following is the result. My family approved, so I hope you all enjoy it too.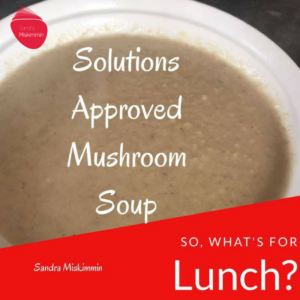 You Will Need
1kg Closed Cup Mushrooms
1 Large Onion
750 mls Vegetable Stock
350 mls Homemade Cashew Milk
2 Tablespoons of Coconut Oil
Salt and Pepper to Season
Equipment
1 Large Frying Pan
1 Large Soup Pan
Hand Blender
Sharp Knife
Chopping Board
Method
Wipe clean/wash mushrooms and chop into chunks and divide into 2 equal parts
Chop onion and divide into 2 equal parts
Heat 1 Tablespoon of Coconut Oil in Large Frying Pan
Add in 1 of the portions of Onions and Mushrooms
Fry off until brown and transfer to the Large Soup Pan
Repeat number 5
Place the Soup Pan onto heat and add in the Vegetable Stock
Add Salt and Pepper
Bring to a simmer and simmer for 10 mins
Reduce heat and stir in Cashew Milk
Simmer for another 5 minutes
Use a hand blender and blend until smooth
Enjoy!!
This can be kept in a sealed container in the fridge for 3-4 days.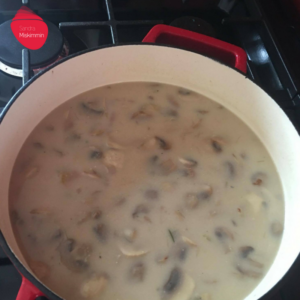 If you like this recipe and think your friends will enjoy it too, please like and share it on social media with the buttons below.
Yours in Health And Happiness