Who loves a lovely "creamy" sauce with their dinner? I know I certainly do!! I am what you call a "wet" eater. Any meal that I have needs a sauce or dressing on it. Then when you go on a "diet" you are not able to have any sauces!! Well I am here to tell you that you can!!
I have played around with ingredients to find a way that I could make a "creamy sauce" without the cream. I very rarely use dairy products now, so it really was a challenge. Three years ago, I loved a creamy or cheesy sauce on things – one of the reasons why I ended up so over weight!! (smiling as I type this with the memories of the dinners I used to eat).
Honestly, I did miss them at the start of when I was losing weight, but my body felt so much better without the dairy products, that I knew I would never go back to eating those types of sauces again.  The reason being that dairy products can produce mucus in your body, which can cause allergies and prevent the nutrients from your food being absorbed. I know if I ate dairy now, I feel all "bunged up" in my nose and throat!!
My discovery!!
One day I was playing around with ingredients in the kitchen and really fancied a creamy chilli chicken for tea. This is made on a regular basis for my family. We have 2 very active boys that love it and request it as often as possible. When they are busy with football I make it into a pasta bake for them and it is DEVINE!! (Here is the recipe). I normally made it with Philadelphia Cream Cheese but unfortunately for them, I only had a small portion left in the fridge.
What could I use instead? I had made Cashew Nut Milk  for my smoothies and thought I could try that. I had read somewhere that it thickened once heated. So I added it in and to my surprise, it thickened very easily. The meal was delicious and the family loved it, and now prefer it made this way.  I have to say I was impressed and I  haven't used the Philadelphia since!!
One evening I really fancied a creamy mushroom sauce to go with my chicken fillet so I started to get creative in the kitchen. I was delighted with the outcome. My mum didn't believe that this recipe would work, but once she saw me make it she was convinced and converted. It is yummy and so versatile! This is so easy to make and it too will become a stable sauce in your household. I hope you like it as much as we do!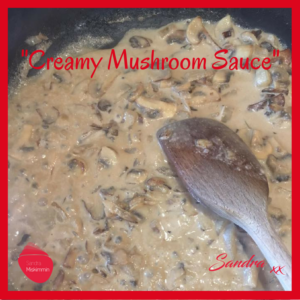 The Sauce Recipe
1 Small Onion
15 Medium Sized Mushrooms (depending on how mushroomy you want it)
250 mL of Homemade Cashew Nut Milk (check out the recipe above)
1 Tablespoon of Coconut Oil
Salt and Pepper, to taste
Method
Peel & finely chop the onion and mushrooms using a sharp knife
Heat the coconut oil in a frying pan
Once melted and warm, add the chopped onion
As the onion is softening, make sure that you stir it so that it doesn't burn
After 2 minutes, add in the chopped mushrooms and stir into the onions
Season with Salt and Black Pepper
Allow the mushrooms to fry off and soften
Turn the heat down and slowly add in the Cashew nut milk, stirring as you add it.
The milk will thicken your desired consistency. Once there turn the heat off. Do not over heat as the Cashew nut milk will curdle and separate.
Serve with chicken, steak, courgetti, and vegetables and enjoy!!
See, healthy cooking doesn't have to be boring!! Share with your friends so that they can enjoy it too and live a healthier lifestyle!
Yours in Health and Happiness